News & Updates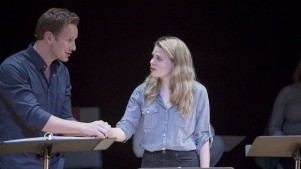 November 17, 2014
Clubbed Thumb will be the first company in Playwrights Horizon's new residency program
BY DIEP TRAN
NEW YORK CITY: For theatremakers in NYC, the biggest expense of mounting a show is not personnel, sets or pyrotechnics. It's real estate. In order to help smaller companies stopworrying about the rent, Playwrights Horizonshas announced a new residency program, where it will host three companies in its theatre school at 440 Lafayette Street. The first resident company will be Clubbed Thumb.
As part of their residency, Clubbed Thumb—a New York-based company focusingon commissioning, developing and producing "funny, strange and provocative new plays"—will receivefree office space, rehearsal space and, eventually, performance space.
"We're really excited to be getting this," said Clubbed Thumb founding artistic director Maria Striar. "It's enormous for us to be able to rehearse and administrate in the same place.The amount of time and unity of labor that we're regaining in this is really huge. There's a flexible amount of space available to us so we can discover new things." And it's not onlyspace that will be available; as part of this open-ended development process, Clubbed Thumb will be working with students from Playwrights HorizonsTheatre School, who will join "overlapping artists in the Playwrights Horizons and Clubbed Thumb community (which is a major overlap)."
It is Playwrights Horizons's eventual goal to have three companies in residence at a time, with each residency lasting three years. To test the new program, and because the performance space is still being prepped, Clubbed Thumb is receiving an additional year on top of its three-year commitment.
"I think that's a statement, a sign of generosity on our part to the company and knowledge of what the ecology is," said Playwrights Horizons artistic director Tim Sanford. "These companies nurture the early stages of writers that we care about and who end up with us, and hopefully after that get launched into the American theatre stream."
Thenew residency program is the newest chapter in Clubbed Thumb's ongoing relationship with Playwrights Horizons. In 2010 (with a Metlife/Theatre Communications Group's A-ha! Grant), the two theatres joined to launch the SuperLab play development program. Recent SuperLab readings have included Men on Boats by Jaclyn Backhaus, Diversity Awareness Picnic by Leah Nanako Winkler and Tumacho by Ethan Lipton.
For her part, Striar is enjoying not having to lug office supplies and scripts across town on the F train. The time savedby having an office space and rehearsal space in the same space can now be devoted to Clubbed Thumb's primary mission: new-play development.
"What we're especially enjoying is thinking up ways the spaces can be used," she said. "It's an exciting opportunity. It's rare when you're a small company and you're struggling to balance your budget to have something that has unlimited opportunity."
The resident playwright announcement follows on the heels of Playwrights Horizon'srecently announced initiative to subsidize healthcare premiums for their playwrights, as well ascompensate playwrights for their time during the pre-production and rehearsal process. (Look for more about that initiative in American Theatre's January issue.)