News & Updates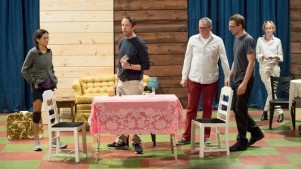 September 4, 2015
ERS's FONDLY COLLETTE opens at New York Theater Workshop!
'Fondly, Collette Richland' Emerges From Collaboration of Wacky and Weird
By ALEXIS SOLOSKI SEPT. 4, 2015
When the playwright Sibyl Kempson brought a very rough draft of a new script, "Fondly, Collette Richland," to the theater company Elevator Repair Service, it didn't look much like a play.
"It was pretty nuts," Ms. Kempson said. "It was kind of incomprehensible." John Collins, the artistic director of the theater company, agreed. "It wasn'tbstructured as a drama at all," he said. "It was just lines on top of lines."
"It was so weird," Ms. Kempson sighed.
Weird has always been a defining characteristic of Ms. Kempson's writing — good weird, splendid weird, ecstatic weird. Her back catalog includes "Ich, KuIrbisgeist" (2012), a sociological revenge tale written in an invented language; "Potatoes of August" (2008), a philosophical comedy about sentient tubers inspired by August Strindberg and the astronomer Johannes Kepler; and "Crime or Emergency" (2009), a "shamanistic cabaret" that shifts from scene to scene with terrifying velocity and includes several Bruce Springsteen songs.
These plays are very smart and purposefully silly, confounding and joyful. They can feel like leveling up in an intricate video game or skipping too far ahead in a Choose Your Own Adventure book.
"Too much mainstream theater tells you things you already know," said Mac Wellman, who leads the Brooklyn College program where Ms. Kempson, 42, earned her graduate degree. "Sibyl doesn't settle for that."
Neither does Elevator Repair Service, which will begin previews for "Fondly, Collette Richland" at New York Theater Workshop next Friday. For more than two decades, the troupe has been creating work using found texts, elaborately wacky sound design and madcap choreography. It has recently found more mainstream success with a trio of plays adapted from great American novels, particularly "Gatz," its nearly seven-hour adaptation of F. Scott Fitzgerald's "The Great Gatsby."
Producers would have been content if the company had kept right on adapting the canon, but the troupe knew it had to shift course. "We were looking for something that scared us." Mr. Collins said. "Deciding that we would work with a playwright and do a new play was in some way the scariest thing we could imagine." Admittedly, he did not seem especially afraid as he and Ms. Kempson ate shrimp pad Thai in the New York Theater Workshop kitchen, Ms. Kempson's handsome rescue dog snuffling at their feet.
Choosing to work with Ms. Kempson, he said, was "the unscary part, though Sibyl is wonderfully scary." (Ms. Kempson, who was wearing two pendants fashioned from Siberian cedars that supposedly abound in "positive and protective feeling," was so touched by this that she teared up.) A dynamic, rigorous and loopy actress, she had toured with "Gatz," and Mr. Collins had assisted her on "Crime or Emergency."
Ms. Kempson, he said, writes, "in a way that's completely unconstrained by theater protocol." He hoped that she would give the company "big impossible problems to contend with." (Ms. Kempson teared up a little more.)
The problems "Fondly, Collette Richland" poses are big, though probably not impossible. The play begins in a small suburban house in the Northeast of the United States, then shifts abruptly to a grand hotel in the Alps. There are dozens ofcharacters, played by 12 company veterans, who navigate political insurrection, multiple realities and a secret lair behind a waterfall. It has hefty, rich, bizarre roles for women, which the company felt was necessary after so many years spent on Fitzgerald, Faulkner and Hemingway.
Ms. Kempson was raised in North Jersey and the Poconos, close to where she now makes her home. Her formative theatrical experience was probably in the fourth grade when she and other students wrote a stage version of the Ponce de LeoIn story. "I wrote it into the script that all these boys had to wear dresses, and they had to play these fairies," and attend to the fountain of eternal youth, she said. To her great surprise, the boys did it.
She studied theater at Bennington and moved to New York to act and temp and groom dogs. In her mid-20s, she began to write plays and was recruited into the Brooklyn College program. While never deliberately provocative, her work has that elementary school sense of a restless, rascally mind wanting to see what it can get away with. She is, said Mike Iveson, a frequent collaborator who is also in "Fondly, Collette Richland," "a nonstop scamp."
In writing plays, including those for her new company, the 7 Daughters of Eve Thtr. & Perf. Co., Ms. Kempson doesn't really start from a story or a structure or even a set of characters. Her plays often begin, she said, as "an irrational response" to what she is reading.
"Fondly, Collette Richland" began with the work of the midcentury writer Jane Bowles, the philosophy of Gaston Bachelard and Mircea Eliade's "Patterns in Comparative Religion." Ms. Kempson began to meditate on a series of images: a mountain, a moon, a sun, a corsage.
Through working with Mr. Collins and the company, an organizing principle, if not a conventional plot, eventually suggested itself. All of this is pretty similar to the way Elevator Repair Service typically works, using rigor, mischievous experimentation and seemingly incompatible source materials to form a more or less coherent show.
Ms. Kempson and Mr. Collins are aware that not all audiences will warm to a play this nonlinear. "The risk that it is difficult," Mr. Collins said. "The risk that it is going to be seen as impenetrable. These are necessary risks for me."
New York Theater Workshop's artistic director, Jim Nicola, doesn't think that the play is so risky. The theater has a long relationship with the troupe, and when Ms. Kempson and Mr. Collins presented the script, he felt the theater had to do it. "It is intellectually rigorous," he said by telephone, "but also really fun."
There are jokes here and songs and wild sound effects and minor royalty. And once you're absorbed into the world, it doesn't seem so strange at all.
"Relax," Ms. Kempson said, as her dog nuzzled her leg. "You don't have to struggle to understand this."
Originally published in The New York Times.