News & Updates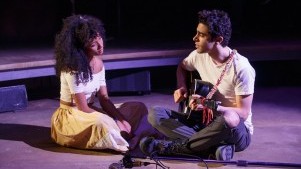 May 23, 2016
Hadestown Will Be Your Next Musical Theater Obsession
The story of Orpheus and Eurydice has to be among the most confounding and tragic of the Greek myths. Orpheus is a musical prodigy who falls in love with the nymph Eurydice. When Eurydice suddenly dies, a heartbroken Orpheus travels to the underworld to beg Hades, god of the dead, to release her. Hades agrees under one condition: If Orpheus can lead Eurydice out of the underworld without turning back to look at her, she can rejoin him in the land of the living. Bizarrely, nearing the finish line, Orpheus impulsively tempts fate and does the one thing he shouldn't, a split-second mistake that loses him Eurydice forever.
So inexplicable, so dark, is that ending, that Orpheus's story has inspired more than its fair share of reinterpretations. There's Monteverdi's 17th-century operaL'Orfeoand Jacques Offenbach's 19th-century operettaOrpheus in the Underworld. In the mid-20th century, the legend inspired Jean Cocteau's 1950 filmOrpheus, Tennessee Williams's 1957 playOrpheus Descending, and Marcel Camus's 1959 filmBlack Orpheus. And more recently, there'sHadestown, the critically beloved 2010 concept album by the musician Anas Mitchell.
That album, which guest-starred a small pantheon of folk gods and goddesses—Bon Iver's Justin Vernon, Greg Brown, and Ani DiFranco, among them—actually had its roots as a "DIY community theater project" that Mitchell, a native Vermonter, wrote, produced (with the help of collaborators Ben T. Matchstick and Michael Chorney), and toured around her home state back in 2006. And 10 years later, a reworked theatrical production ofHadestownhas come to New York City, where it's just opened at the New York Theatre Workshop in a run already extended through July 3.
This latest adaptation, a collaboration between Mitchell and the Obie-winning director Rachel Chavkin, is a boisterous, hauntingly resonant folk opera that finds wry humor and traces of hope in Orpheus's tragedy. Set in a place resembling the Dust Bowl, in a time resembling the Great Depression,Hadestowndoes for Orpheus something like whatO Brother, Where Art Thou?did for Odysseus. Our hero (played by Damon Daunno) is a penniless singer-songwriter with the pipes of Jeff Buckley and the politics of Woody Guthrie, an idealist who wins the heart of the far more pragmatic Eurydice (Nabiyah Be), then, whimsical to a fault, fails to provide for her. Hades (Patrick Page) is a cruel capitalist overlord with a menacing rumble of a voice, who rules over a walled company town inhabited by those who have sold their souls for the protection of the almighty dollar. Persephone (Amber Gray), his wife, is a discontented gangster's moll, a dandelion wino who lives half the year within her husband's walls, half outside, in equal measure attracted to and repelled by Hades's darkness. To bring the concept album to the stage, Mitchell beefed up the part of Hermes (Chris Sullivan), a lumbering, hard-drinking soothsayer in a three-piece suit who serves as the audience's narrator and guide.
When we spoke by phone, Mitchell referred to her efforts to keepHadestownfirmly on the "metaphorical plane." And perhaps that's why, though she wrote it in the mid-aughts in response to George W. Bush's re-election, it's easy to graft elements of our current sociopolitical mess onto the production. Hades, who sings of surrounding his city with a wall to keep out the poor and dispossessed, is distressingly Trump-like. His alarmingly hot Hadestown reads like a postapocalyptic climate-change cautionary tale. And Orpheus's idealism, for which he's skewered at nearly every turn, is positively Obama-esque
Hadestownis thought-provoking, emotionally stirring (the girl behind me was weeping by the end), and, above all, majorly enjoyable. I wouldn't be surprised to see it on Broadway soon. In the meantime, Mitchell and I spoke about the 10-year process of bringingHadestownto New York and why she finds hope in Orpheus and Eurydice's unhappy ending.
When did you first encounter the myth of Orpheus? What did it mean to you?
It wasn't like I was a classics major. I remembered the story from seeing it as a little kid in a children's illustrated mythology book. I was a musical kid and Orpheus is this musical hero. It made an impression.
George W. Bush was elected my freshman year of college, then I got out of school and he was re-elected. I was coming out of school as this idealistic person who believes music could change the world. That's the Orpheus character: If he could just write something beautiful enough, maybe he could change the rules of the game. Coming out into this world where you have to make money and George W. Bush gets elected twice, there was this feeling of:The world is how it is. It doesn't matter who you are, what kind of art you make. I thinkHadestownwas a playing field for those ideas.
So this was originally a reaction to George W. Bush. When the album came out in 2010, it seemed like a response to the recession. Now people are connecting your song "Why We Build the Wall" to Donald Trump. It seems likeHadestownis ripe for any dystopian political moment!
I think that's the power of mythology, these archetypal images, like a wall. Donald Trump is tapping into that: He understands that that's an image that resonates for people in a deep way.
The other thing about the Orpheus myth that's just so wild is this fundamental mysteriousness about the end. You're all set up for this Hollywood ending, and you don't get it. It's unknowable, really, why he turns around. I think that's one reason people keep coming back to it.
There's a way in which this show resists literal detail. It wants to exist in this metaphorical plane. Which is very frustrating sometimes, because in this version of the story that we've been developing with Rachel, we're really trying to make a piece of theater that takes audiences by the hand, that leads them along rather than relying on an abstract, emotional understanding of the story.
You started this because you identified with Orpheus. On the 2010 album you sing the part of Eurydice. It's been 10 years. Have your loyalties shifted?
At different times I have identified with different characters. Even though I don't feel much kinship with him, Hades's songs were easy to write. There is a logic to the way he thinks about the world.
The Hermes character has undergone the biggest transformation for this version of the story. He's become not just a guide in the mythological sense, but a narrator. People were like, "Why does Orpheus turn around? Why are you telling the story?" For 10 years I've been trying to figure that out, and maybe resisting explaining it. I was trying to address some of that with what Hermes says at the very end: Here's the thing, to know how it ends and still begin to sing again, as if it might turn out this time.
I felt like that was me speaking: Why do we tell this tale again and again? I don't quite know, but I know that the act of telling is worthwhile. We still have got to live, to make art, to love each other, whether or not the end is going to be sad. Those lines were maybe the last thing I wrote for the show. I really identified with Hermes. The show is about Orpheus and Eurydice, then about Hades and Persephone. But at the very end, I think the protagonist becomes the teller of the tale.
Tell me a little about collaborating with Rachel Chavkin.
Well, certainly dramaturgically speaking, she's been the one holding my hand for the longest. She has had the most sense of what was missing from the story, and what needed to get in there, things that were unclear that needed to be clarified.
I trust her aesthetic so much, I really love the stuff she's done with Dave Malloy, the stuff she'sdone with The Team. My big fear about trying to develop this show: I was afraid of it getting cheesy. I was afraid of it getting overly narrative, over explained. Working with Rachel, I never have that fear. Nothing she does is cheesy. She doesn't allow things to get too sentimental.
If I hadn't had a partner like her, I don't know I would have been brave enough to keep working on it.
In its first incarnation, you toured this show around small theaters in Vermont and New England. Does it feel different to stage it in New York? Do you feel that you're up against a certain cynicism?
I do think that had I been living in New York, I maybe wouldn't have started writing it. There's something about being in this very free and innocent space of Vermont, that's just like: Lets make this thing! Maybe here you feel cowed by the critical community.
The thing I'm most trying to come to terms with is that this show has always existed in a world where the tickets were cheap. In a theater where it costs 100 bucks, I'm sad I'm not seeing more young people or music people at the show. That's a major situation with New York theater: It's unaffordable.
That brings me to an obvious comparison:Hamilton. We're having this moment where musical theater suddenly seems relevant again, like it has some room to breathe. Do you feel likeHadestownis at all in conversation with Hamilton?
I fucking lovedHamilton. It was so exciting, because I see a lot of musical theater that's not up my alley. I think Lin-Manuel Miranda is a lyrical genius.
That show was so exciting. I don't know what it has to do withHadestown. I also feel a kinship with Dave Malloy, even though he's a really different writer. What works about Hamilton and [Malloy'sNatasha,Pierre & the Great Comet of 1812] is that the storytelling is just so good, and they are also really creative and poetic on a musical level. Sometimes I feel like you get one or the other. I aspire to [both].
Last weekyou tweeted: "Omg think I'm done rewritingHadestown. For now. We open Monday! Existential crisis starts Tues." You officially open tonight. Tomorrow is Tuesday. Where do you go from here?
I don't know! I've been so single-minded for so long about this thing, I have no idea. I've been a pretty absentee mom lately. I'm really excited to just hang out with my family, get some time at home. [Also] this process has really brought me into a community I'm thoroughly in love with: actors, directors, designers, the kind of collaboration that goes into making a theater show. I'd like to do another musical. Hopefully the next one won't take 10 years.
This interview has been condensed and edited.