News & Updates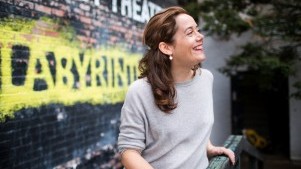 May 13, 2015
NY Times: ​"Mimi O'Donnell Seeks Solace in Theater After Philip Seymour Hoffman's Death"
By MICHAEL PAULSON
MAY 13, 2015

She told herself she wouldn't make a big decision for a year.
Her life partner, Philip Seymour Hoffman, had died of a drug overdose, and Mimi O'Donnell was a mess. She withdrew from work. She immersed herself in books about grief. She took their children to a beach where they could all collapse, together.
But she knew enough not to rush anything. Now she is back at the helm of the downtown theater where she and Mr. Hoffman met years ago — directing a play, raising money, overseeing a fractious company of actors and writers.
And how is she doing?
"It is a ridiculous question — I don't know," she said. "There are so many people who have written beautiful books about grief, who have been able to say it much better than I, but I guess I would say that, after a year has passed, I'm able to function, if that's the right word, or be in the world a little bit differently."
Ms. O'Donnell, 47, is not one for grand pronouncements or fiery speeches. Surrounded by people who tend to be, well, dramatic, she is down to earth and warm, self-deprecating and strikingly calm as she juggles her roles as artistic director of the Labyrinth Theater Company, director of its new production, "NiceGirl," and mother to three children.
During an initial interview, she blithely apologized for having been unable to shower — there had been a gas leak in her building, so she had no hot water for several days. She was dressed in black, she explained, not as a sign of mourning, but because the theater's executive director instructed her to dress up when meeting a reporter.
At a rehearsal a few weeks later, this time in jeans and gray sweater, she sat alone with a script behind a music stand, focused on the blocking of an argument and the quality of the characters' Boston accents. She poked fun at Nick Cordero, a Tony-nominated actor, when he suggested one of the actresses might gaze out a window in search of his character. She called a break so one of her actresses could breast-pump, then seized that time to assess vintage leather jackets with the show's costume designer.
She even burst into song — at least for a few seconds, while working through a scene in which a mother asks her daughter not to move out. "Stay with me," she softly sang, a plaintive lyric from "Into the Woods," the musical she had recently seen with one of her daughters.
Ms. O'Donnell, who studied fashion and then designed costumes for "Saturday Night Live" and worked at Shakespeare in the Park before finding her way to Labyrinth, is a big believer in the emotional power of theater. She said that she and Mr. Hoffman would attend shows three or four times a week, because "we wanted to be taken away," and they continued seeing a lot of theater after having children, because "I want my kids to see me doing that. They should know that that's part of what you need to do as a person in the world."
Mr. Hoffman, of course, was by then a star of stage and screen — one of the great contemporary actors — but also a patron saint at Labyrinth, where he acted, directed, raised money, served as artistic director for a time, and functioned as friend and mentor to a generation of theater artists. Ms. O'Donnell had been at his side since 1999, when the couple met on the set of "In Arabia We'd All Be Kings,"written by a Labyrinth member, Stephen Adly Guirgis; the one time she choked up during an interview was recalling Mr. Hoffman's response on opening night at the first play she directed four years ago.
After Mr. Hoffman's death, in February 2014, Ms. O'Donnell read heavily about grief — she mentioned finding comfort in books by Joan Didion and Joyce Carol Oates, as well in etiquette advice from Emily Post. She was only minimally involved with the company through the summer. In the fall, she returned to work, and since January she has been at it more intensively.
"I was pretty stubborn in my falling apart," she said. "And my kids saw all of it, because they should. What, am I going to hide it from them? I don't want them to hide it from me. And, even as the artistic director, there were times when I was like, 'I can't do this right now, and I'm not going to pretend I can.' "
She said it was theatergoing that had ultimately helped her resolve to return to work after Mr. Hoffman's death, citing specifically last summer's Sydney Theater Company production of "The Maids" at City Center, starring Cate Blanchett.
"That was the first play that I saw after Phil had died, and she did that thing you want every actress in theater to do: She left her heart on the stage," Ms. O'Donnell said. "And I knew enough in that moment to go: 'I love theater. I love it. I love what it can do.' And, not making a concrete decision, but knowing that I wasn't going to leave the theater company, I wasn't going to stop doing this."
Theater is therapeutic, Ms. O'Donnell said, in part because "it makes you remember there are other emotions."
"I go in feeling whatever I'm feeling about grief, and all of a sudden there's something onstage that's happening — it cracks something open," she said. "When they really, truly open up in front of you emotionally, there's something about it that I find humbling as a human being."
Labyrinth plays an unusual role in the ecosystem of New York theater. Founded in 1992 with an emphasis on providing a creative outlet for Hispanicactors who were struggling to be cast as anything other than maids or drug dealers, it retains a strong emphasis on ethnic diversity, seeks out plays with working-class themes and attracts a strikingly young audience.
The theater, located in the Westbeth artists' complex in the West Village, is small — seating capacity varies based on set design, but there are just 70 seats for the current production. The company has an annual budget of $1.3 million, almost entirely raised from donors, because tickets are $25, meaning that all shows run at a loss.
Oskar Eustis, the artistic director of the Public Theater, which for some years had a formal partnership and co-produced plays with Labyrinth, praised Ms. O'Donnell for bringing a sophistication to her company's choices and said, "It's extraordinary how well she's doing."
"She's had a year from hell, and it feels to me like part of the reason she's doing this is that it feels emotionally healthy for her to be doing something that Phil cared so much about," Mr. Eustis said. "I'm sure, in a way, that's allowing her to stay connected to him."
Within the Labyrinth world, where she emerged as artistic director after a challenging period in which she was part of a triumvirate overseeing the company, she's had a tougher time. Labyrinth's 135 members — who include the actors Chris Rock, Ethan Hawke, Ellen Burstyn, Sam Rockwell and Bobby Cannavale, and the playwrights Eric Bogosian, Lynn Nottage, John Patrick Shanley and Mr. Guirgis, as well as many less well-known figures — are a disputatious bunch. Mr. Hoffman's death prompted only a momentary hiatus to debates about how the company is managed, what kinds of plays are produced and whether the company should grow and, if so, how.
"She's dealing with a lot of forces in the company that are toxic, for lack of a better word," Yul Vazquez, one of the company's founders, said. "The company is going through a bit of a shift — not an identity crisis, but it's finding itself again, after we've just been dealt a tragic and staggering blow."
The play Ms. O'Donnell is now directing, "Nice Girl," in some ways exemplifies Labyrinth's aspirations: It is set in a working-class milieu, and it was written by a woman who, like Ms. O'Donnell, found her career transformed by Labyrinth with the encouragement of company members. (The playwright, Melissa Ross, began at Labyrinth in marketing, and then acting, and then writing; Ms. O'Donnell arrived as a costume designer and began to direct.)
Ms. O'Donnell first read "Nice Girl," about a chronically single woman who feels trapped living with her widowed mother, before Mr. Hoffman died, but committed to it last summer. The play is now in previews and opens May 27.
"It's a beautiful story of realizing, at a certain point in your life, that you're stuck, and an event or a person comes into your life and kind of shakes that up," she said. "All of a sudden something happens, and then it's like: 'Am I going to take that next step? Am I going to do that next thing?' "
A version of this article appears in print on May 14, 2015, on page C1 of the New York edition with the headline: Seeking Solace at the Theater .
2015 The New York Times Company