News & Updates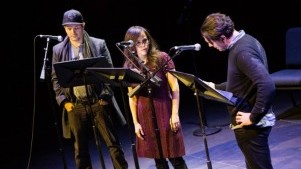 July 27, 2015
Playing on Air presents CRAZY EIGHTS by David Lindsay-Abaire
CRAZY EIGHTS - a short play by David Lindsay-Abaire starring Bobby Cannavale, John Leguizamo, Rosie Perez, and Kevin Hogan.
A short play by David Lindsay-Abaire in which recovering addicts (Rosie Perez, John Leguizamo) have their Saturday night card game rudely interrupted by Bobby Cannavale, who plays good cop/bad cop all by himself. Crazy Eights by David Lindsay-Abaire features Bobby Cannavale (Blue Jasmine, "Boardwalk Empire," The Motherf***er With The Hat) John Leguizamo (Ghetto Klown, Mambo Mouth; "Ice Age" series, "Romeo + Juliet"), Rosie Perez ("Do The Right Thing," Academy Award nominee for "Fearless," "White Men Can't Jump") and Kevin Hogan. Directed by David Lindsay-Abaire. Interview with the playwright, director, cast and Artistic Producer Claudia Catania following the performance.
Playing on Air is a public radio show and podcast featuring great American short plays with great American actors. We distribute audio productions of contemporary short plays, translating stage works into enduring modern radio theater. We aim to redefine radio drama for today's digital, mobile audience.
Recorded Live at BRIC House in Brooklyn - Released Jul 27, 2015