News & Updates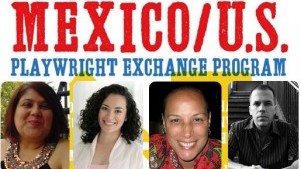 November 10, 2014
THE LARK ANNOUNCES ARTISTS FOR 9TH ANNUAL MÉXICO/U.S. PLAYWRIGHT EXCHANGE PROGRAM
NEW YORK, NY –The Lark in collaboration with Mexico's National Fund for Culture and Arts (FONCA) is pleased to announce the 2014 Mxico/U.S. Playwright Exchange Program. This year's plays are THE DINOSAURS' EXTINCTION by Luis Ayhlln, translated by Jorge Ignacio Cortias; A WORK OF ART IN BLACK by Flavio Gonzlez Mello, translated by Carmen Rivera; MARA OR THE NIGHT WITHOUT DREAMS by Antonio Ziga Chaparro, translated by Tatiana Suarez-Pico; and 22 DREAMS...FAR FROM THE SEA by Ada Andrade Varas, translated by Virginia Grise.

"In the media, we usually get one or two flat, limited perspectives on Mexico and Mexican society. In these plays, we see Mexico's current realities refracted through multiple lenses," said Andrea Thome, Mxico/U.S. Playwright Exchange Program Director."When you see all four plays together and experience the unique world that each playwright has created, their perspectives come together to form a multi-dimensional, complex and living landscape, full of unexpected reflections not only of Mexico's particular idiosyncrasies, but of our shared experiences, our shared hypocrisies, and the depth of our human souls."

For the ninth year The Lark will host playwrights from Mexico and pair them with U.S. playwrights, actors, and directors for a ten day cultural exploration which establishes ongoing channels of communication between artists in both countries. "We believe it is the act of listening to one another that unifies us around the art we create, resulting in the trust and respect that are the foundations of society," said Lisa Rothe, Lark's Director of Offsite Programs and Partnerships. "This program builds a bridge between cultures and involves artists, theater leaders and audience, who might not otherwise cross paths. The hope is everyone comes together to create an artistic community and form bonds that will grow into long standing relationships."

This program focuses on the creation of stage-worthy translations of new plays from Mexico; it also introduces the visiting international writers and guest observers from other countries to New York's theater scene, industry leaders, and The Lark community. Cortias, who participated in 2006 as translator forJavier Malpica's OUR DAD IS IN ATLANTIS, returns to translate Ayhlln's THE DINOSAURS' EXTINCTION. "If New York is a world class city and a theatrical capital, why do we so rarely host theater from the Global South?" asked Cortias. "The Lark's Mxico/U.S. Playwright Exchange Program is one important attempt to begin redressing that imbalance."As one of Lark's many international exchange initiatives, the Mexico/U.S. Playwright Exchange Program has paired over 20 U.S. translators with over 30 Mexican playwrights since its inaugural year in 2006.

Public readings of these newly translated works will be presented on Saturday, December 13 and Sunday, December 14 at the Lark BareBones Studio, followed by a closing night Celebracin on Monday, December 15. All events are free and open to the public. Visit www.larktheatre.org for more information.

The 2014 Mexico/U.S. Advisory Committee includes Mariana Carreo-King(playwright), Migdalia Cruz(playwright), Ana Graham (Artistic Director, Por Piedad Teatro Producciones), Daniel Jaquez (director), Lisa Rothe (Director of Offsite Programs and Partnerships, The Lark), Debbie Saivetz (director), Caridad Svich (playwright), Andrea Thome (Mexico/U.S. Playwright Exchange Program Director, The Lark) and Isabel Zapata (Program Coordinator, Mexican Cultural Institute).

This program is a collaboration between The Lark and Fondo Nacional para la Cultura y las Artes (Mexico's National Fund for Culture and Arts) with support from theRobert Sterling Clark Foundation, New York City Department of Cultural Affairs in partnership with the City Council and The Mexican Cultural Institute of New York.The Washington Jefferson Hotel is the official hotel of the Mexico/U.S. Playwright Exchange Program.

PLAYS AND PLAYWRIGHTS

THE DINOSAURS' EXTINCTION (LA EXTINCIN DE LOS DINOSAURIOS) by Luis Ayhlln - An old man is dying of cancer and is being forced to sell his house when he is approached by an old frenemy who proposes they rob a jewelry store. To aid them in this unlikely endeavor, the two old men recruit a young meathead who moonlights as a porn actor.

A WORK OF ART IN BLACK (OBRA NEGRA) by Flavio Gonzlez Mello – In the wake of an unknown natural disaster, a group of people istrapped within the bowels of an "intelligent building." Was it an earthquake? A fire? A terrorist attack? ... Or has the building developed a conscience and has decided to commit suicide?

MARA OR THE NIGHT WITHOUT DREAMS (MARA O DE LA NOCHE SIN SUEO) by Antonio Ziga Chaparro - Brenda Paz, a young immigrant woman from El Salvador, becomes a high ranking member of two factions of the brutal Mara Salvatrucha gang in the U.S. She embarks on a life of crime and is caught in a love triangle that brings about betrayal and bloodshed. Based on a true story.

22 DREAMS...FAR FROM THE SEA (SUENOS 22) by Ada Andrade Varas - Matthew, incarcerated for a crime he did not commit, struggles to understand the difference between guilt and innocence. He dreams of the ocean and a woman named Ana. When stories do not belong to men but to fate, who can you trust?

BIOGRAPHIES OF THE PLAYWRIGHTS

Antonio Ziga Chaparrois a playwright, actor, and director of Carretera 45 Teatro. He has won many national and international honors. His work has been presented in Mexico, E.U., Spain, Venezuela, Cuba, and Costa Rica, and two of his plays have been translated in English.

Luis Ayhllnis a member of the Sistema Nacional de Creadores de Arte (SNCA). He is one of Mexico's most renowned playwrights and a representative of his generation. He was a Premio Born de Teatro 2010 finalist, one of the most important awards in Latin America. Ayhlln is also the recipient of the National Prize in Literature 2006, in the field of Theatre, and the Manuel Herrera National Playwriting Award 2004, among other honors. Twenty of his plays have premiered in Mexico, Latin America, and the United States.

Flavio Gonzlez Mellois a playwright and director of theatre, film, and television. He has written 1822 (el ao que fuimos imperio), LASCURAIN O LA BREVEDAD DEL PODER, OBRA NEGRA, EDIP EN COLOFN, and EL PADRE PRDIGO for the stage. He has received several awards, among which are the Juan Ruiz de Alarcn Playwriting Award and the Sor Juana Ins de la Cruz Prize. Recently, his stage adaptation of the novellaTirano Banderasby Ramn del Valle-Incln had its world premiere in Teatro Espaol in Madrid.

Ada Andrade Varasis a playwright and director. Some of her plays can be found on Dramaturgia Mexicana, and others have been featured in publications such as Tierra Adentro, Trillas, and Tramoya. As a director, she has directed forty-nine productions in Puebla, Morelia, Tampico, and Mexico City in Mexico; thirty-one of them with Historias Teatro. Her plays SOBREVIVIENTES, HILOS DE PLATA, and IMPORTANTE will all have their own stage productions this year in Mexico City.www.aidaandrade.com

BIOGRAPHIES OF THE TRANSLATORS

Jorge Ignacio Cortias'smost recent play, BIRD IN THE HAND, was aNew York TimesCritic's Pick and is published by Dramatic Publishing. He is a Usual Suspect at New York Theatre Workshop, an alumnus of New Dramatists and founder of the Obie-winning company, Fulcrum Theater.

Virginia Grisewrites plays, from panzas to prisons, from street theatre to large-scale multimedia performances, from princess to chafa, that are set in bars without windows, barrio rooftops, and lesbian bedrooms. Her play BLU, published by Yale University Press, was a recipient of the Yale Drama Series Award. Her other published works include THE PANZA MONOLOGUES, co-written with Irma Mayorga, (University of Texas Press) and an edited volume of Zapatista communiqus titled Conversations with Don Durito (Autonomedia Press). She is a recipient of the Whiting Writers' Award, the Princess Grace Award in Theatre Directing, the Jerome Fellowship at The Playwrights' Center, and is a Time Warner Foundation Fellow Alum at The Women's Project Theatre. Virginia holds an MFA in Writing for Performance from the California Institute of the Arts and currently lives in Brooklyn, NY.

Tatiana Suarez-Pico began her career as a freelance writer for publications around NYC. She also co-createdBodegaAve.com, a web-comic that centered on multicultural teens living in Brooklyn, NY for which she received a "Groundbreaking Latina" Award from Catalina Magazine. Residencies, fellowships, and other awards include: Lila Acheson Wallace American Playwrights Program Fellow at The Juilliard School, Dramatists Guild fellow, Mary Louise Rockwell Scholar at ESPA/Primary Stages, MFA Playwrights' Workshop at The Kennedy Center, New York Stage and Film's Powerhouse Theater Season, and SPACE on Ryder Farm's 2014 season. She has been a finalist for the Leah Ryan Prize for Emerging Women Writers and the Old Vic's 2013 US/UK TS Eliot Exchange, among others. Works include, THE MYSTERY SPOT, LIKE WATER, PROFIT, LRTC, 443, FLESH & BLOOD, DOG DAY, MOUNTAIN AIR, and SHE. Tatiana is currently a staff writer on NBC'sParenthood. MFA, Actors Studio Drama School/New School University.

Carmen Riveraholds an MA in Playwriting and Latin American Theatre from New York University. Her Obie award-winning play LA GRINGA, just celebrated its 18th year anniversary in repertory at Repertorio Espaol. It is now the longest running Spanish-language play in Off-Broadway history. LA CADA (DOWNFALL) DE RAFAEL TRUJILLO recently opened at Teatro Crculo, in New York City. JULIA DE BURGOS: CHILD OF WATER has been extensively featured this year, in conjunction with the centennial of Julia de Burgos' birth, most recently produced by UrbanTheater in Chicago and is available for purchase at RedSugarCanePress.comand at Amazon.com. Carmen is a Founding Member and Co-Executive Director of E.P.P. (Educational Play Productions), which, brings plays that deal with social issues into the public schools. She is very happy to return to The Lark as a translator for the Mexico/U.S. Playwright Exchange Program. For more information on Carmen, check out www.carmenrivera-writer.com.

ABOUT THE LARK

The Lark provides transformative support for playwrights. Founded in 1994, this laboratory for new voices and new ideas provides playwrights and their collaborators with resources to develop their work in a supportive yet rigorous environment and encourages them to define their own goals and creative process in pursuit of a unique vision. We embrace new and diverse perspectives here at home and in all corners of the world, supporting innovative strategies to help new work reach audiences through a network of evolving partnerships. We strive to reinvigorate the theater's ancient and enduring role as a public forum for discussion, debate and community engagement, and to strengthen society's capacity to imagine its future through storytelling.

In April 2012, The Lark opened a new 10,000 square foot custom-designed, play-creation studio in New York City's theater district. As part of its growth over the last few years, The Lark has created a portfolio of major playwriting fellowships that provide economic flexibility to writers at different stages of their careers including the PoNY Fellowship. Last year, The Lark served 1,243 artists, including 174 playwrights; partnered with over three dozen theaters and universities; welcomed 2,917 audience members to 40 public presentations, and in the last two years had 112 Lark-developed plays move on to 184 productions around the world. The Lark has supported numerous projects serving a diversity of communities, such as a touring residency program for Roma youth in Eastern Europe, an annual Mexico/U.S. Playwright Exchange and, in partnership with Signature Theatre, a Contemporary Chinese Playwriting Series. Recent plays substantially developed at the Lark include David Henry Hwang's Chinglish, Kimber Lee'sbrownsville song (b-side for tray), Katori Hall's The Mountaintop and Rajiv Joseph's Bengal Tiger at the Baghdad Zoo. The Lark is led by its co-founder and Artistic Director John Clinton Eisner and Managing Director Michael Robertson.For more information about The Lark, please visit: www.larktheatre.org.